Fluoroelastomer Centre
A Fluoroelastomeric Sponge Rubber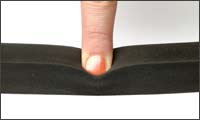 Sponge rubber made from fluoroelastomers combines properties from both material categories and applications which were not realizable in the past are now possible.
ZruMoos« FPM is:
• a cellular expanded fluoroelastomer with outer skin
• soft up to 15 Shore
• poorly inflammable
• extremly resistant against ozone, light and weather
• continuous heating resistant up to 200 °C, up to 300 °C for short time
• excellent resistant against many media such as oils, fuels, acids, alkalis, saline solutions, non-polar solvents
• airtight at lowest surface pressure


A few application examples ZruMoos® FPM:
• Sealing of engine bays with large, irregular gap lengths with sponge rubber profiles. The high temperatures prevalent there in combination with oils and grease are no problem for ZruMoos® FPM. The light deformability of such profiles can be seen in the above figure.
• Applications that require high acoustic damping in conjunction with aggressive chemicals.
• Due to the cellular structure of ZruMoos® FPM, the heat conductivity is heavily reduced. Thus, applications that require high thermal insulation in conjunction with other extreme properties of fluoroelastomers are conceivable.
• Applications that require a high toluene resistance in conjunction with a great ductility.
• ZruMoos® FPM can also be applied as soft wiping medium, in order to remove hot oil from rotating metal shafts. The service life is considerably longer than in conventional sponge rubber types.
• ZruMoos® FPM provides an interesting alternative wherever the application of silicon foam fails due to limited chemical resistance.