Know how Centre
Know-how is one of the most important factors, if not the most important factor, in the manufacture of technical products.
In our in-house laboratory , Zrunek will find a solution to your specific rubber problem. For more than half a century experienced chemists have been researching and developing new rubber compounds to meet individual clients' needs. Our in-house mixing-plant allows immediate realization of these solutions directly on site.
Laboratory and mixing-plant together form a perfect combination and thus Zrunek stands out from the crowd of other suppliers. These capabilites enable us to provide special services, as this is to be expected from an innovative and far-reaching company.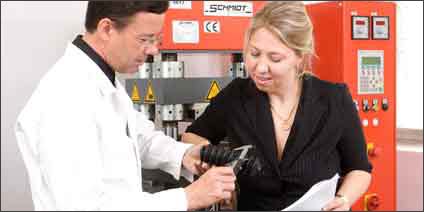 Product development in the laboratory of Zrunek